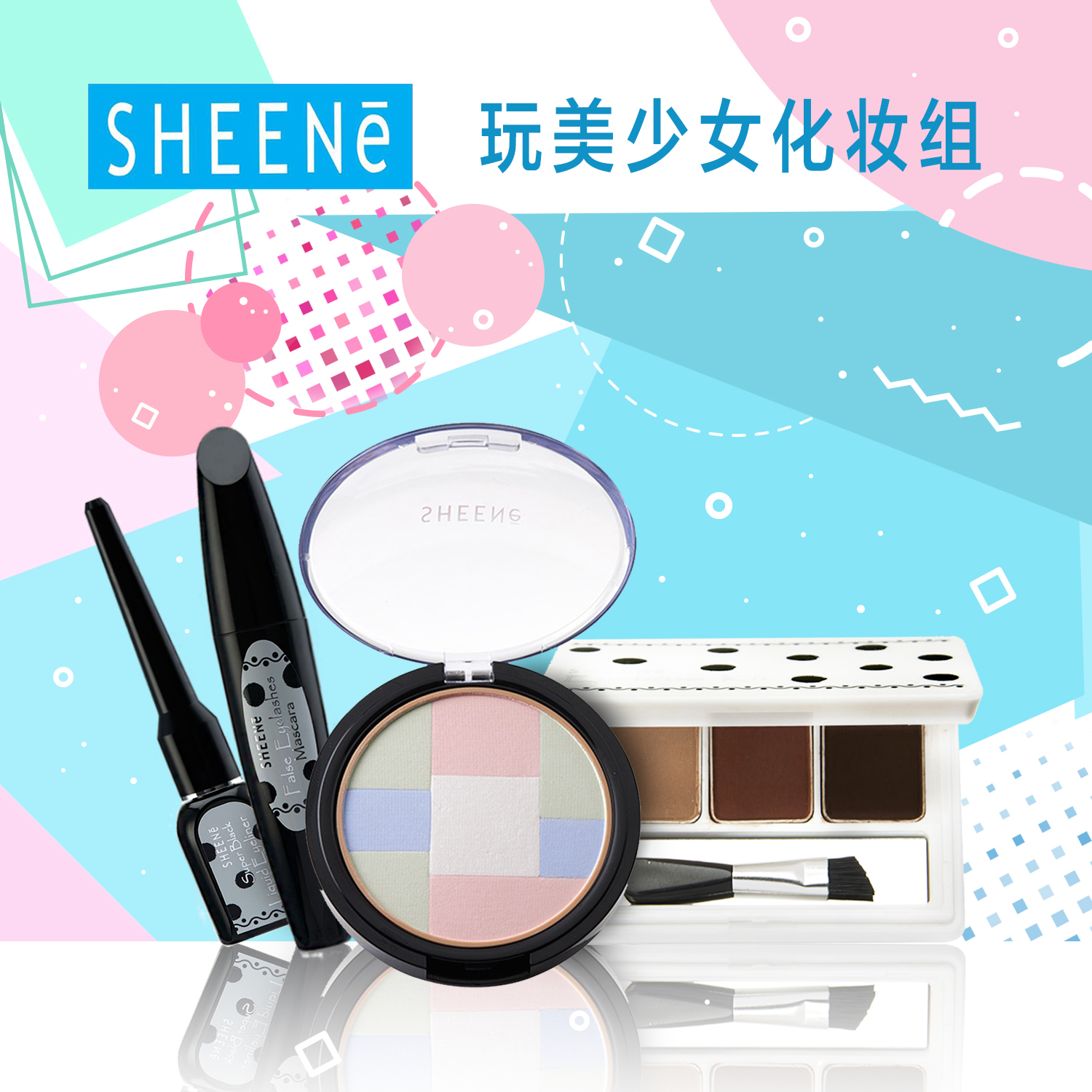 SHEENe Beauty Girls Make-up Kit Set
1. SHEENE CC Mineral Brightening Finishing Powder
4 Shades transparent pastel colors in SHEENE CC MINERAL BRIGHTENING FINISHING POWDER provides light and no caking feeling which creates natural glow and healthy skin giving perfect smooth finish. CC (Color Correct) helps to conceal redness and adjusls pale skin tone to be smooth and healthy skin.
- Green : Reducing redness
- Blue : Yellow-based skin tone neutralizer
- Pink : Healthy skin
- Pearly white : Skin brightening

Edelweiss organic extract from Edelweiss flower , grown at high altitude in the Swiss Alps, is a powerful plant based antioxidant which helps to balance and reduce radical creating gentle and charming beauty.
2. SHEENE SUPER BLACK LIQUID EYELINER
Creates sharp eye lines make vivid eye. It can be water proof, no messy and easy to remove.
3. SHEENe Eyebrow Kit
Perfectly eyebrows powder kit. The kit provides smooth and soft texture. It's easy to apply and long-lasting effect. Trio shades are selected that suitable for grooming eyebrows. They include intense color that defines and shapes brows and color complementing setting powder to keep natural looking brows.
4. SHEENe False Eyelashes Mascara
This Mascara provides 10x more volume with composition of the "Volume Lash Booster" and the "Fiber" that have extra soft and thin helps to maximum 100% lengthen. Also it has excellent waterproof property.