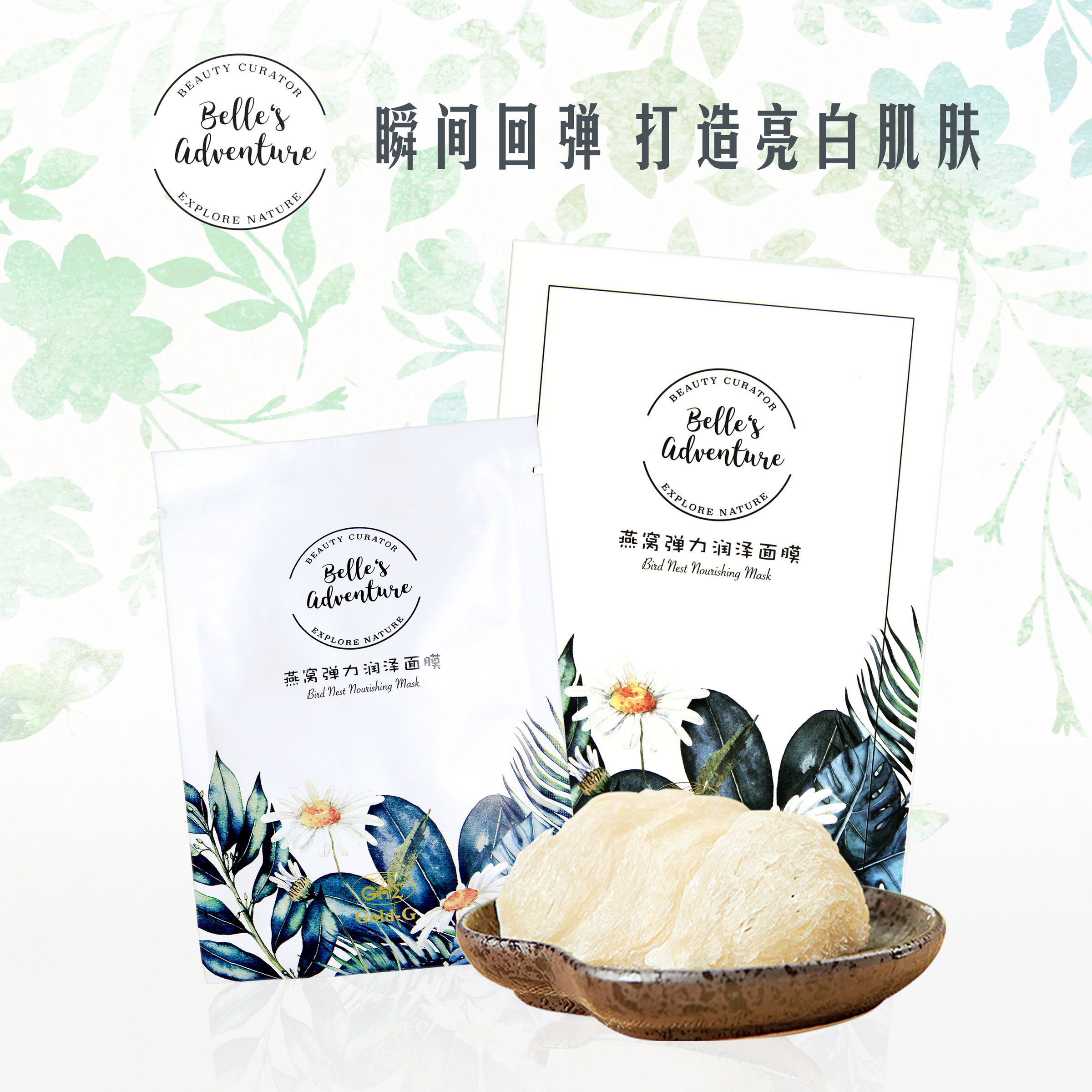 Belle's Adventure Bird Nest Nourishing Mask (6pcs per box)
DETAILS
燕窝弹力润泽面膜
Bird Nest Nourishing Mask
成分:
水、甘油聚醚-26、丁二醇、丙二醇、甜菜碱、透明质酸钠、黄原胶、丙烯酰胺/丙烯酰基二甲基牛磺酸钠/丙烯酸共聚物、羟乙基纤维素、小雨燕窝提取物、PCA钠、山梨(糖)醇、丙氨酸、丝氨酸、甘氨酸、谷氨酸、苏氨酸、脯氨酸、赖氨酸、精氨酸、苯氧乙醇、乙基己基甘油、EDTA二钠、PEG-40氢化蓖麻油、羟苯甲酯、羟苯丙酯、碘丙炔醇丁基氨甲酸酯、双(羟甲基)咪唑烷基脲、(日用)香精。
功效:
本品富含燕窝精华,给予肌肤密集式的滋润修护,为干燥缺水肌肤补充流失的水分,为肌肤带来长时间的水润感;有效修护毛孔、调理肤色、令肌肤细腻饱满有弹性,呈现健康美丽的年轻状态。
使用方法:
清洁肌肤后,可以精华液打底;

取出并撕开珍珠纸;

将超透隐形面膜布于全脸服帖;

时间约

15-20

分钟后撕开面膜布,直接做后续保养。
注意事项:
仅供外部使用。开封后请尽速使用完毕以确保质量在最佳状态。

使用时若不慎入眼,请用清水冲洗。

使用后肌肤如有持续红肿或出现不适应症状,请暂停使用。

三岁以下孩童勿用。
保存方式:
请置于阴凉干燥处,避免阳光直射。
品牌授权:马来西亚 GNE HMP SDN. BHD.
委托方:杭州蓓缇健康科技有限公司
委托方地址:杭州市西湖区文三路259号火炬大厦1幢1803-127室
被委托方:东莞市科妍化妆品有限公司
被委托方地址:东莞市石排镇埔心村埔心工业区
化妆品生产许可证编号:粤号20161287
执行标准号:QB/T 2872 合格
产地:广东省
保质期:三年
净含量:25g/片 x 6 片
Refunds And Return Policy
1. Application for Returns/Refunds
Subject to the terms and conditions in this Refunds and Return Policy and the Terms of Service, Buyer may apply for return of the purchased items ("Item") and/or refund prior to the expiry of MeiiShop Guarantee Period as stated in the Terms of Service.
MeiiShop Guarantee is a service provided by MeiiShop, on User's request, to assist Users in dealing with certain conflicts which may arise during the course of a transaction. Users may communicate with each other privately to resolve their differences or approach their relevant local authorities to assist them in overcoming any dispute prior, during or after using MeiiShop Guarantee.
2. Application for the Return of an Item
Buyer may only apply for the refund and/or return of the Item in the following circumstances:
The Item has not been received by Buyer;
The Item was defective and/or damaged on delivery;
Seller has delivered an Item that does not match the agreed specification (e.g. wrong size, wrong colour, etc.) to Buyer;
The Item delivered to Buyer is materially different from the description provided by MeiiShop in the listing of the Item.
Return must be made within 7 calendar days.
MeiiShop will review each Buyer's application on a case-by-case basis and, in its sole discretion, determine whether Buyer's application is successful.
Kidnly fill in the return form as below and inform Customer Service or email your inquiry to meiishop@meiiglobal.com with the subject "Return Item" before returning the item(s) other the request will not be processed.

3. Return Form
Please fill in the Refund Application Form in the following format :
Name :
Meiishop Account Username :
Address :
Contact Number (Mobile):
Order No :
Product Name :
Receive Date :
Return Date :
Reason (For feedback purpose) :
Price :
Postage/ Mailing Cost (Pease attach a copy of postag receipt/document) :
Bank Account Details (Full Name/ Bank Account Number/ Which Bank)
If you have any difficulties or problems, please do not hestitate to contact us at 03-77708366. Our administrator will contact you once your request is confirmed.
4. Rights of Seller
When MeiiShop receives an application from Buyer for the return of the Item and/or refund, MeiiShop will notify Seller in writing. We will respond to Buyer's application according to the steps provided by MeiiShop in the written notification.
MeiiShop will determine whether Buyer's application may be successful against the circumstances stated.
5. Condition of Returning Item
To enjoy a hassle-free experience when returning the Item, Buyer should ensure that the Item, including any complimentary items such as accessories that come with the Item, must be returned to MeiiShop in the condition received by Buyer on delivery. We will recommend Buyer to take a photo of the Item upon cash bill.
Item bought during promotional events are not accepted for return or exchange.
6. Liability of Return Shipping Fee
Return item(s) will be assigned to a courier of our choosing and provide the return parcel tracking number for all items to us.
i) Return postage fees for shipping item(s) have to bear by customer during the return process, in the scenario of an unforeseen error from the seller's end (i.e - faulty or wrong Item delivered to the buyer), MeiiShop will bear buyer's return shipping fee maximum of RM5.00.
In the unlikely event that your return does not meet requirement(s), our Customer Service will notify you before sending it back to you. In this instance, your return courier/postal fee will not be reimbursed.
7. Refunds
Buyer will only be refunded after MeiiShop has received the returned Item. In the event where MeiiShop received the returned Item within a specified time, MeiiShop will not be at liberty to refund the applicable sum to Buyer.

Meiishop will review and confirm the item(s) follow our policy. Once confirm, item(s) will be replace or refund within 1-14 working days.

Meiishop does not monitor the cancellation return and refund process for offline payment.